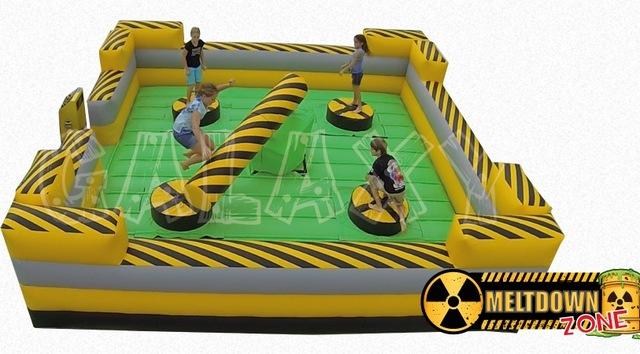 Wipeout Meltdown Zone W/Operator
Actual Size: 19' wide x 19' deep x 12' tall
Outlets: 2
Attendants: 1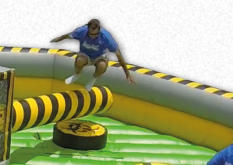 Based on the popular TV show "Wipeout" this new action game will challenge your agility, balance, and reations. Up to 4 players can participate at once. Each player choses one of the foam pedestals in each corner and stands on it. The operator then starts the game by moving the giant mechanical foam arm ( similar to a joust pole ). The arm moves around circling the arena while also moving up and down crossing over each pedestal. The players must jump over or duck under the arm as it crosses them. As the game progresses the arm may move faster while suddenly changing directions. The goal is to stay on your pedestal as long as you can before the arm knocks you off. Do you jump or do you duck? The last person standing wins!
***NOTE- Policy change for 2020*** Waivers will be required for all participants on this item. And remember waivers cannot be signed by minors. They must have a parent or legal guardian present to sign on their behalf.
Dimensions: 20' x 20' plus a 4'x6' area off to the side for the operator- a minimum ceiling clearance of 12' is required for indoor setups
Power requirements: (2) standard 120 volt electrical outlets within 50' of the center of the game on separate dedicated 20amp circuit breakers
Participant restrictions: Maximum weight 250lbs/ Minimum height 48"
Target age range: This game is intended for persons age 10+ years old
*Rental rate is based on a standard daytime/ evening rental with up to 4 hours of operating time. Overnight events with operating hours between 11pm and 6am are subject to a $20 per hour surcharge.