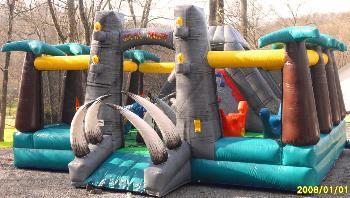 Jurassic Adventure
Enter the prehistoric age with the our premier inflatable for your younger crowd- the visually stunning Jurassic Adventure! Once inside, kids can climb up the bubbling volcano, slide down one of 2 slides, and bounce or seesaw on one of the inflatable dinosaurs. This one is sure to be a smash hit with the little ones!
---
***New for 2020****
This item requires a certified monitor present at all times during operation. Anyone monitoring an inflatable can be certified for free by taking a 15 minute online course. If you prefer, a certified monitor can be provided from Northstar at an additional cost. In some cases it may be required that participants sign a waiver prior to participant ( note minors must have a parent or legal guardian present ). Contact us for more information.
---
Dimensions: 16' tall x 30' long x 30' wide
Electrical power requirements: (2) standard 120 volt electrical outlets within 75' of the center of the game on separate dedicated 20 amp circuit breaker
Participant restrictions:
-Maximum weight 100lbs
-Maximum age 10 years old
Staff requirement: 1 capable adult
Average number of persons who can experience this activity per hour: 240
Target age range: 2 years old- 8 years old
*Standard published rental rate is based on a standard daytime rental with up to 4 consecutive hours of operating time.