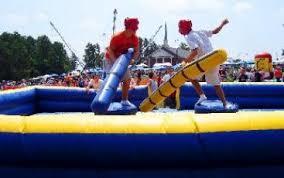 Gladiator Joust
Actual Size: 25' wide x 20' deep x 12' tall




The Gladiator Joust is an inflatable jousting arena with (2) four-foot pedestals and (2) five-foot foam padded jousting poles. Two competitors enter the arena and climb up on their opposing pedestals, grab their jousting sticks, and wait for the signal to start. When they get the signal, the competition begins. They swing their jousting sticks in an effort to knock their opponent off his or her pedestal. The game is over when one of the competitors falls off their pedestal onto the cushion of air. The Joust is a blast to play and just as exciting to watch and cheer on your friends. This is an extremely popular game with all ages and will definitely draw a crowd of spectators.
---
***New for 2020****
This item requires a certified monitor present at all times during operation. Anyone monitoring an inflatable can be certified for free by taking a 15 minute online course. If you prefer, a certified monitor can be provided from Northstar at an additional cost. Contact us for more information.
---
Dimensions: 12' tall x 25' wide x 20' deep
Electrical power requirements: (1) standard 120 volt electrical outlet within 75' of the center of the game on separate dedicated 20 amp circuit breaker
Participant restrictions:
-Maximum weight 250lbs
-Minimum height 42"
Staff requirement: 1 capable adult
Average number of persons who can experience this activity per hour: 80
Target age range: 8 years old- 40 years old
*Standard published rental rate is based on a standard daytime rental with up to 4 consecutive hours of operating time.