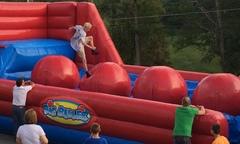 Big Red Balls Challenge
$625.00
Dimensions: 40' wide x 21' deep x 16' tall
Outlets: 2
Monitors: 1
Have you ever wanted to try your skill on the Wipeout Big Red Balls course? With the Big Red Balls Challenge, you're going to get your chance. Themed after the hit TV show Wipeout, this fun new game features a series of four inflatable red balls which challengers must jump across to reach the other side. Climb up the ladder on one of the side platforms high above the biggest ball pit you've ever seen. Then try to cross the course by jumping or running across those giant red balls. Your goal is to hop across all four balls to the platform on the other side. But don't worry if you fall off, this ball pit is a super-soft jump zone cushioned by our patented Zero-Shock technology. So challenge all your friends to the Wipeout Big Red Balls Challenge!
Dimensions:
16' tall x 40' long x 21' wide
Electrical power requirements:
(2) standard 120 volt electrical outlets within 75' of the center of the game on separate dedicated 20 amp circuit breakers
Participant restrictions:
-Maximum weight 200lbs
-Minimum height 54"
Staff requirement:
1 capable adult
Average number of persons who can experience this activity per hour:
80
Target age range:
10 years old- 40 years old